CH Blutrax Thatsafact Jack
Jack has the distinction of being the first lilac champion in Canada, obtained at six months of age from Group placements. He has great pigment, scissors bite and faultless conformation, as well as passing available health checks. His temperament, willingness to please and intelligence are top notch.
Jack has completed his obedience , and is currently in training as a tracking dog (as in Search and Rescue). We thank Cherrie O'Brien of Sault Ste. Marie, Ontario, for her excellent knowledge and help in Jack's tracking endeavour.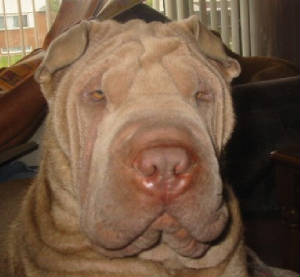 Blutrax Hoover
Hoover is a black horsecoat carrying the blue color gene. He has scissors bite, good conformation, untouched eyes and is carrying many champions in his pedigree. Hoov has produced blue, chocolate and true brown. Hoover's sweet personality endears him to everyone he meets.